3 HaunTs Admission 2017
2017 XMas Scream
13 acres of Terror is far greater! We don't measure in square feet, we measure in Heart Stopping TeRRor and Chaos from beginning to end!
We will turn you inside out!
Scare you soon!
SORRY, NO REFUNDS. NO EXCEPTIONS!
House Only $15.00 per person.
Maze Only $10.00 per person.
***House and Maze $20.00 per person.
Ticket sales 7:45-11pm. We stay open till dead!
Once you purchase a ticket from us it is valid for entry, (restrictions apply). Once you enter, no re-entry will be permitted. Tight spaces, light grabbing, fog and strobe lights can be encountered!
Wear closed toe shoes and No Heals!
XMas Scream 2017
December 22,23,29,30.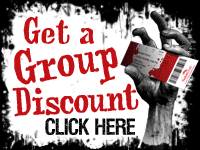 Buy online Stocking stuffers!